Black Cat Barber Co. was founded to be a staple in the local community and surrounding areas. Our mission statement has always been, "Take care of the people who take care of you." That's why no matter how big or small, age, race, ethnicity, or anything else, when you walk through the door, you're treated as if you belong and never left.
At Black Cat we strive to go above and beyond to provide you & your little ones with a premier service that's unparalleled to anything of its kind, all while being in the comfort of a warm welcoming atmosphere.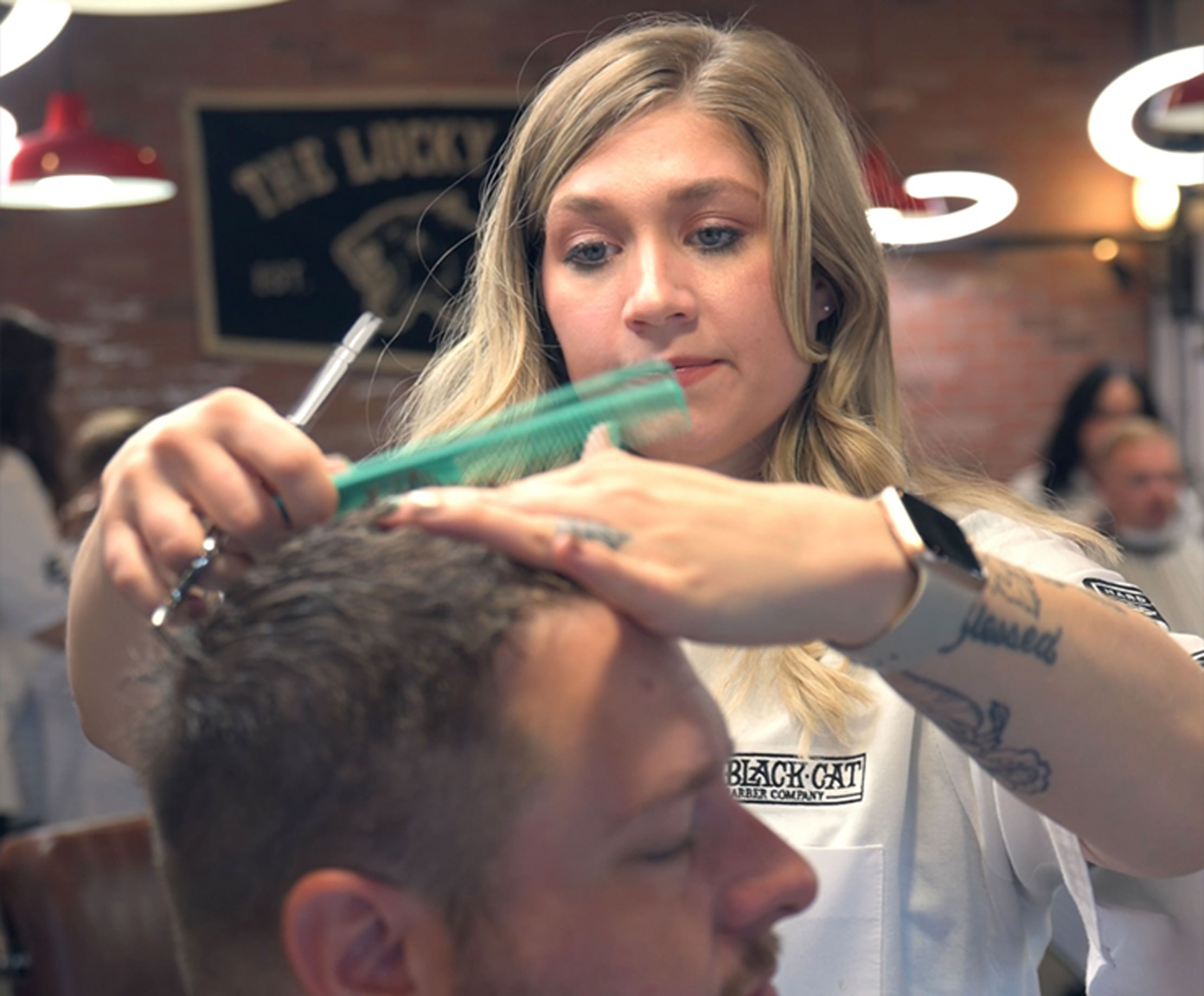 Hair Cut
Your haircut makes a statement! So make sure you're not making the wrong one. Our haircut is a 45 minute long service. At Black Cat you're not herded in and out like cattle. Our clients are our number one priority and that's the way you'll be treated every time!
Beard Trim
A beard is a man's holy grail, so don't just let anyone touch it. Leave it to us to shape, trim, and sculpt your beard to your desired length. Whether your beard is long, short, almond shaped or square, we'll make sure your beard stands out.
Hot Towel Face Shave
Take a trip down memory lane and indulge yourself in our hot towel face shave. We start by prepping the face with multiple hot towels, followed up by hand whipped lather and shaved to precision with a classic straight razor. It truly will leave you feeling like a baby face!
Unibrow bothering ya? Ear hairs creeping out of your ears? Or is your nose hair starting to connect with your mustache? Well look no more cause we have a solution for that! Nice, hot wax applied and removed by yours truly here at the shop. So buckle up and head on down now while supplies last!
Hot Towel Head Shave
We'll began by prepping the head with multiple hot towels. Followed up with hand whipped lather and shaved with a classic straight razor to perfection. Once finished, we apply oils to the skin to help soothe and protect. It's an experience even Mr. Clean himself would envy!
Shampoo & Scrub
Take a minute to clean up after a cut, (or before) kick back and relax! Let us give you a nice head scrubbing, all while you drift away with hot steaming towel over your eyes.
Hot Towel Neck Shave
Included with every haircut!
Have a question? Send us a message.